PJ's BAR-B-QSA Song
Written as a tribute for the Davis family,
PJ, Carolyn, Johnny & Jady,
originally from Buffalo, New York,
now residing in Saratoga Springs, New York.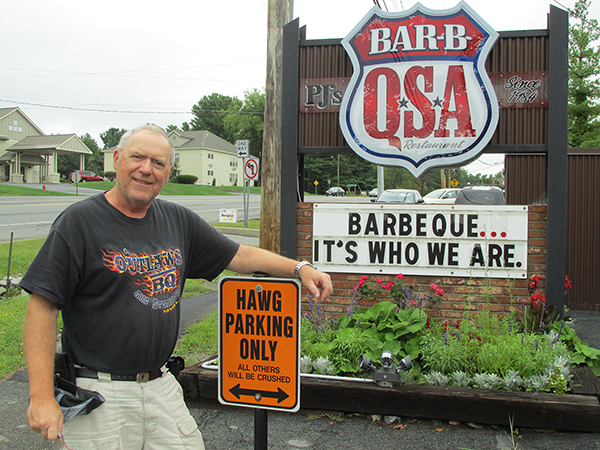 Music & Lyrics by Gerry Gudzio
Composed on December 18, 2017 at Lasalle, Quebec
This is a song about bar-b-que and the pleasure that it brings
Sitting down at a table for two as the choir of angels sings.
It is a place that brings you joy as you eat and drink so happily
It is a place created by the Davis family.
There to greet you as you walk in is pitmaster PJ
The coolest cat you have ever seen, he also doubles as DJ
He'll make sure that your needs are met with friendly conversation.
When you leave you will never forget that wonderful sensation
of PJ's BBQSA, New York State Fair chicken
PJ's BBQSA that's when my brain stops tickin'
PJ's BBQSA let's have the Texas brisket
PJ's BBQSA let's have it all why risk it
Let's have it all why risk it.
Working hard behind the scenes is porkmaster Johnny
Brisket, rib and sausages, he makes it succulent like honey.
He smokes his meat over hickory wood to bring out all the flavour
Then steps out with his platter full for his customers to savour.
Take me down to PJ's BBQ to where life is worth livin'
Take me down to PJ's BBQ where everything's forgiven
Take me down to PJ's BBQ for a little piece of heaven
Take me down to PJ's BBQ, Route 9 just off highway 87.
I don't know about you, I'll have the Brunswick stew as I'm sitting here with Mary
Sweet potato mash and a healthy splash of Crystal Beach Loganberry
Just being here is like "Happy New Year!" - everything just makes sense
And when all is said and done and you're ready to run
They stamp your Diner's License
(Oh, yes they do) they stamp your Diner's License.
Take me down just outside of town to PJ's BBQSA
Take Route 9 past the Avenue of Pines in your '63 Corvette Sting Ray
Take me down and let's paint the town, my hunger's getting larger
Take me down and let's hang around in your '69 Dodge Charger.
Heading out for some BBQ on my Triumph motor bike
Heading out for some BBQ, great minds think alike
Heading out for some BBQ, this place gives me the thrills
Heading out for some BBQ and cheering for the Buffalo Bills
And cheering for the Buffalo Bills